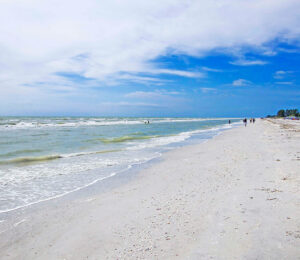 First and foremost, we hope everyone had a happy and safe Fourth of July holiday! We know you join us in celebrating our nation, our freedoms and everyone who has contributed to helping make us (still) the greatest country on earth.
Here on Sanibel Island, we're excited to share our July issue of WAVES, dedicated to all of you who hold Sanibel Arms West near and dear. And for the record, that's a lot of you — roughly 7 out of every 10 people who receive WAVES is reading along with you!
This month, we're happy to report more progress toward another day closer to the paradise we all love. Important items for you to know:
ROOF WORK CONTINUES. As we journey through Southwest Florida's summer and summer rains, it's our priority to keep Sanibel Arms West waterproof in every way.
ELECTRICAL WORK IS BUZZING. Power is another key component to our recovery, and crews are ready as components arrive.
SEALING THE DEAL. Just as important, contractors are getting ready to move onto the next vital phase in our comeback: installing windows, doors and interior walls.
As always, we wish to thank you for your concerns, support, encouragement and kind words as we've committed our energies to the recovery and re-imagination of our beloved beach resort.
All of us are eager to complete our mission and see Sanibel Arms West welcoming you hopefully by summer of next year. We look forward to sharing with you here, each month in WAVES. Be sure to follow us on Facebook for updates each month, too!
Lighthouse Beach Park Opens
Friday, June 16 was something of a historic day for Sanibel Island. More than eight months after Hurricane Ian, Lighthouse Beach Park re-opened to the public.
Of course, gone are the two historic cottages that stood proudly beside the lighthouse, as well as one of the lighthouse's four legs (now with an "artificial" leg for support). But the re-opening of the landmark beach park was an occasion for celebration cheered by residents, visitors, officials, plus media from across the region…and the country.
Yes. June 16 was another day closer. As is every day.